Municipal Services
Government authorities put their trust in Care Accessible Transportation to deliver robust demand response solutions. Care Accessible Transportation specializes in providing region-wide paratransit services for ambulatory and wheelchair bound passengers. We offer a door-to-door, shared-ride service. Multiple passengers may board and disembark at pre-scheduled pick-up and drop-off points according to itineraries generated by the client's booking system for each service day.
Our proven track record, operational know-how and strong commitment to customer service and safety enables us to deliver a well managed and efficient service for cities, towns and municipalities.
Our Track Record
Since 2006, we have operated a Regional specialized transit service on behalf of York Region Transit called Mobility Plus, for the transportation of seniors and persons with disabilities.
Our job is to assist, escort and safely transport Mobility Plus passengers, providing door-to-door services. In doing so, we supply, operate and maintain a fleet of dedicated wheelchair accessible minivans and sedans .
Under the Mobility Plus contract, we annually cover more than 300,000 kilometres and serve more than 40,000 passengers
Our vehicles cover all of the Regional Municipality of York, which includes Aurora , East Gwillimbury, Georgina, King, Markham , Newmarket , Richmond Hill , Vaughan and Whitchurch-Stouffville. We also provide cross-boundary service to the City of Toronto and adjacent Regions.
Dial-a-Ride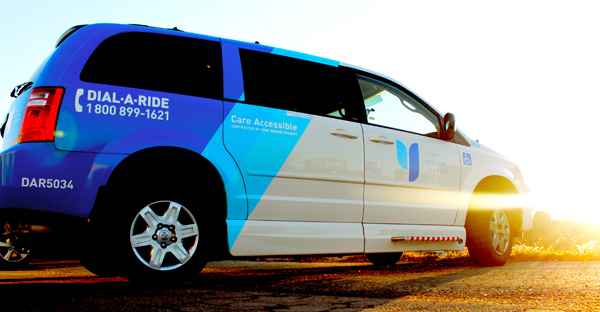 This solution is cost-effective for transit authorities requiring transportation services along a prescribed route. This can be for existing conventional transit routes which have low-occupancy periods.
Advantages to implementing this type of service are lower operational overhead, a more effective utilization and allocation of resources, environmentally sound decisions, cost-effective and customer centric service, and opportunities to serve routes which otherwise may not be viable
Our Track Record
In 2007, we partnered with The Regional Municipality of York and welcomed a new service under York Region Transit called Dial-A-Ride. What started as a one-year pilot project serving one Newmarket route has quickly expanded and now includes 5 routes.
York Region Chairman and CEO Bill Fisch...
"The Dial-a-Ride service may provide an economic and environmentally-friendly answer to low evening ridership we sometimes experience on transit,"
Town of Markham Regional Councillor Jim Jones Chair of
the Region's Transit Committee...
"Dial-a-Ride is a practical solution that will keep operating costs down and Town of Newmarket residents connected,"
We welcome all cities, towns and municipalities to inquire with us about this environmentally friendly and cost-efficient service. Through our experience we are able to offer expert advice and consultation to determine feasibility and requirements, and to develop a business case.